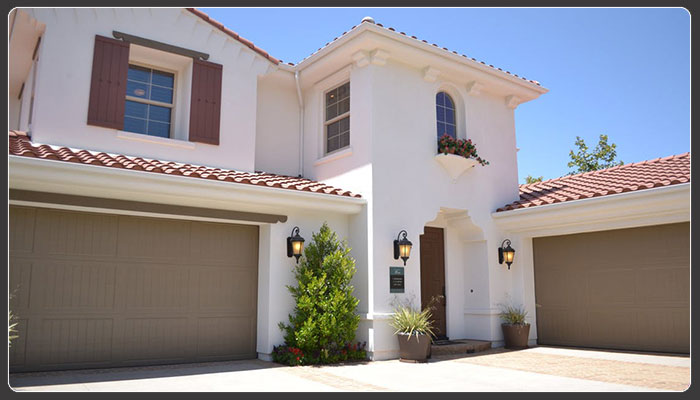 No one would ever leave their house unprotected, but what about their garage? It's a property asset that many homeowners don't consider as heavily. Although your house may have more important things inside, your garage is a safe haven for cars, tools, storage, and a number of small items. Keep your garage safe from intruders with these easy security tips.
If you have a remote control garage door, don't leave the remote in your car where it can be easily spotted and stolen. Attach it to a keychain and take it inside with you. If your remote is too big to put on a keychain, put it in a hidden compartment or purchase a smaller remote that's compatible with the make of your garage door opener.
Give your garage door lock more security with a metal reinforcer or choose an ANSI 1 rating deadbolt to strengthen your door jamb and hinges. Make sure you put a metal sleeve onto the lock area and use long screws to firmly attach a strike plate to the wall before installing the deadbolt. You can find these materials at most department or hardware stores.
 Install motion detector lights outside your garage door to illuminate your driveway and ward off burglars. If you'd rather keep your current lights, buy a motion detector that you can hook up to them. Avoid using fluorescent light bulbs if you live in a region that frequently experiences extremely cold weather, as they light up much slower in the cold.
Cover up your windows with curtains or blinds to keep intruders from peering inside. If you want to protect against the gaze of burglars but still want to let some light in, purchase a translucent film that attaches to your windows. You can find this material in online shops or brick-and-mortar department stores.
Purchase window bars to prevent burglars from breaking windows and entering your garage, or build your own for a much better price. Before you begin constructing the bars, screw your windows shut. Then, take a set of half-inch steel pipes and cut them to the length you need. Arrange each bar no more than eight inches apart. With two washers and two lag screws, you'll thread a tee onto either end of each bar to secure it. If you're up for the work, choose this simple, low-cost option.
Turn off your garage door opener when you leave the house for more than a day. Secure the door with a bolt if you don't have an opener so burglars can't lift the door while you're gone. Additionally, don't leave the garage door open unless someone in your household is in the garage. If necessary, you can purchase an automatic closer that closes the door after an amount of time that you choose. You can stop the timer if you need the door open for longer than usual.
Protect your garage the same way you'd protect your home. Take the necessary precautions by obtaining some guidance from your local residential locksmith and you'll never have to worry about intruders.