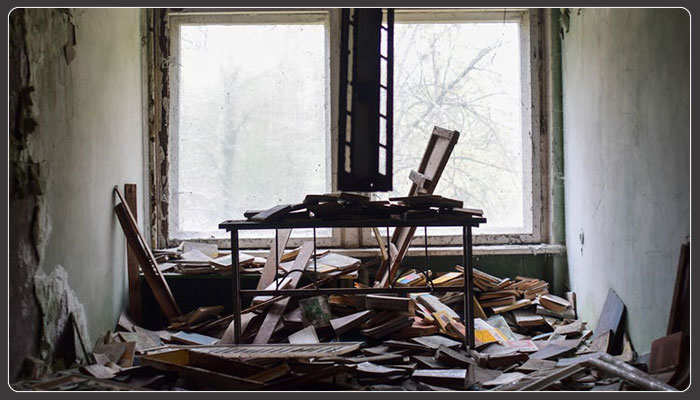 We've all been warned about the 'worst case scenario' when renting out our homes on AirBnB. Recently, a Toronto couple unfortunately found their century-old Victorian home trashed after renting it out for a weekend in July. Among the items stolen, this included a 50-inch TV, several family heirlooms, and a sneaker collection.
 The property was rented out on a site similar to AirBnB known as Kid & Coe. The couple who lost these items are now suing Kid & Coe for estimated damages to the home and the value of their stolen property, totalling $100,000. The couple suspect more than fifty people may have been in their home, going through drawers and closets searching for anything of value they could find. They suspected they were renting to a young couple with a toddler but unfortunately this doesn't seem to have been the case. Later, they found out fraudulent credit card information had been used.
 The first hint of trouble came a day after their guest checked in. While visiting New York, the couple renting out their Toronto home received alerts on their mobile phone reporting smoke in the home. The night prior, a noise complaint had already been field by their neighbor. When the couple called their security company to investigate, eight adults were discovered sleeping in the home. They were promptly evicted and a relative filed a police report not long after.
 Kid & Coe is a family-friendly AirBnB-esque site specializing in connecting families with family homes. The couple had used this website multiple times, with much success, and were very pleased with their rentals thus far. That's in part why it was even more shocking when they came back to find their books having been burned by cigarettes, and their children's toys broken and used as drug paraphernalia.
 A representative for Kids & Coe communicated that it was taking the family's concerns very seriously but that they continue to intimate that it is the homeowners' responsibility to secure their own insurance.
 Though it's unclear what this means for the future of Kids & Coe, this horrific happening is a warning to any homeowners looking to rent out their properties. They need to know, as best as they can, who they are renting to.
 This home was almost literally turned upside down. Every corner of the place was seemingly perused for valuables and for days after, there are still things being found missing. The risk of going on sites like AirBnB and renting to a party that you do not know is that you are opening up your valuables and your property to events like this. This isn't to say, don't rent out your property. Please do and reap the rewards! But, do it as safely and securely as you can. Before diving into such a venture, re-evaluate your home security situation. With investment properties on the rise and more and more people registering on sites like AirBnB, many residential locksmiths specialize in preparing a home that is to be regularly rented out. Protect your property as best as you can and get as much information as possible prior to committing to any rental.