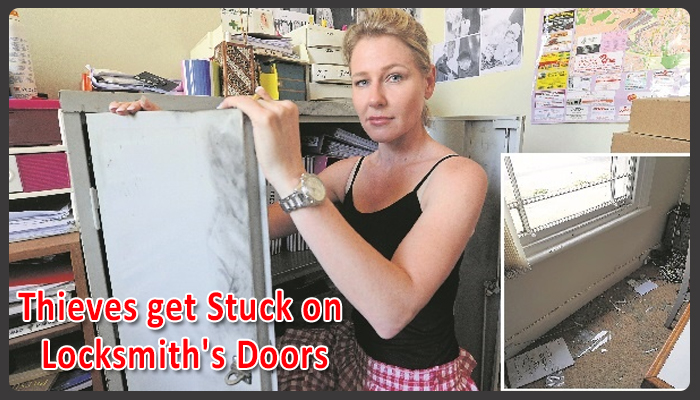 Since thieves were unable to break the locks established by the business Lock and Key Solutions, they chose to go for the window instead. They were successful, but Maritsa Gouws, a Miss South Africa 2016 contestant, says that she is nonetheless grateful that her family is safe. This would be in spite of the fact that thieves successfully broke into the family company.
While there is no question that the locks clearly did their job, this story points strongly to the importance of comprehensive security solutions. This would mean taking steps to ensure that when a home or place of business is protected, that protection is provided on every possible level. There are several fascinating elements to this story that are worth keeping in mind.
Thieves Rob Locksmith Company
Found at the corner of Peter Kerchhoff Street and Boom Street, Lock and Key Solutions had recently gone through some renovations. New carpets were fitted to establishment that Friday, just prior to the robbery in question. After the robbery, Gouws indicated that she had left 2 laptops in her office, in addition to an external hard drive, when she left the office that Friday. Upon returning to the office on Saturday, she found the office to be in a state of disarray. A number of items had been lifted from the scene, as well.
Commenting on the matter further, Gouws mentioned that because the thieves took items that were set aside in (seemingly) secured locations, it would seem as though the thieves knew exactly where to go for the merchandise they wanted. From the items that were stolen from the business, Gouws mentioned that a variety of special, sensitive material were on the devices that were stolen. This would include information about the family business, information about the family itself, personal photographs, and much more. While Gouws indicated that the business is safe, which includes any and all sensitive information about their clients, the real problem involves the personal photographs and other items that were on the devices in question. Gouws made it clear that replacing all of these things would prove to be very difficult indeed.
Gouws also said that she wasn't terribly worried about any potential threat to her family or place of business. The company is already in the process of restoring all of the information the company needs. What worries her the most involves the personal photos and other items. As mentioned before, replacing any of those things is going to prove to be extremely challenging.
While the incident did leave her shaken up, Gouws did suggest that the events have left her with the desire to be more "vigilant." There are always things one can do to reasonably increase security with their home or business.